The following instructions describe how to setup the Prelivia System: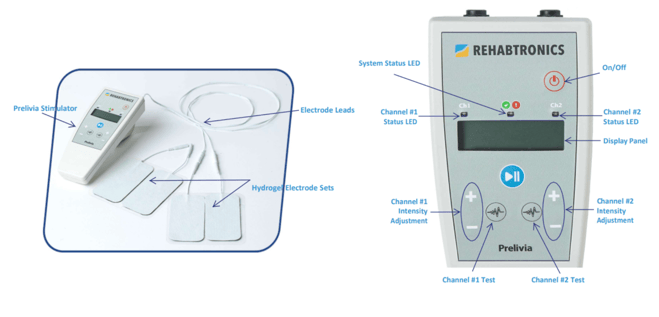 Confirm that the Prelivia Stimulator has AA alkaline batteries properly installed and is powered off.
Peel adhesive backing from electrodes, and affix the electrodes to the target area on the patient's body (typically the gluteus maximus muscles).
Connect the hydrogel electrodes to the electrode leads, and connect the leads to the Prelivia Stimulator. Ensure that the leads are completely inserted into their connectors.
Turn on the Prelivia Stimulator by pressing the On/Off button until the display turns on.
Use the left +/- controls and test button to adjust the stimulation intensity to the set of electrodes connected to channel #1. Intensity should be set to the point of causing visible muscle contractions.
Repeat the previous step for the electrodes connected to channel #2, using the right +/- controls and test button.
Initiate the stimulation program by pressing the Run/Pause button. The display illumination will turn off, and intensity adjustment buttons disabled. The system will begin to stimulate automatically after 5 seconds.
If at any point the "System Status" indicator LED on the Prelivia Stimulator is red, observe the message displayed by the unit and refer to the troubleshooting instruction in Operator's Manual. Replace electrodes if they are not completely adhering to the surface of the skin, become dirty, or after 12 hours of continuous use. When removing electrodes, first disconnect from the Prelivia stimulator, and always lift electrodes from the edge, not the socket lead.